Looking to replace your roof? Roof replacements are one of the more daunting home improvements you'll have to make as a homeowner. What type of shingles should I get? What color should I choose? How do I choose a roofing contractor for my roof replacement? These are all great questions and things that we deal with on a daily basis.
While roof replacements in Atlanta are typically needed because of an old or leaking roof, there are also visual aspects to consider because your roof has a large impact on the curb appeal of your home.
In this guide to roof replacements in Atlanta, GA, we will go through everything you need to know about the roof replacement process, from roof replacement services to roof replacement costs. And by the end we hope you'll know the best roof replacement companies in Atlanta–that's what we at Colony Roofers strive to be, and it's what our customers say about us.
Atlanta Roof Replacement Guide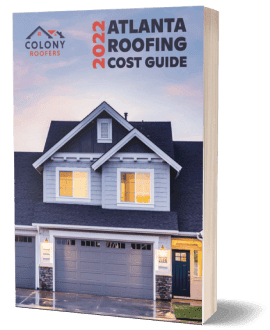 Roof replacements can be overwhelming. There are tons of different roofing materials to choose from when completing a roof replacement in Atlanta, GA. While asphalt shingles are typically the top choice, there are a variety of choices within asphalt shingles. Metal roofing is quickly becoming one of the top choices for roof replacements in Atlanta, because it lasts far longer than asphalt shingle. Other roof replacement options include slate, tile, and cedar shake. The pitch of your roof also has an impact on the type of roof replacement you will need and the options you have. For example, flat roof replacement will require a membrane material instead of a shingle or tile application.
How do I know I need a roof replacement?
Will I need to replace the gutters as well as the roof?
How long does the process of installing a new roof take?
Do I have to have a full roof replacement?
Atlanta Roof Replacement Costs
There are many things that can impact the budget of your roof replacement. The pitch (steepness of your roof) and the size or square footage are probably the single largest determinant in the cost of your roof replacement. The next highest impact is what we've discussed above, your choice in roofing material. The roofing contractor you choose will also have an impact on the roof replacement cost. There are large variations in quality of workmanship, material manufacturers used, and even legality of business practices.
We obviously recommend using a reputable Atlanta roof replacement company, but ultimately that's your decision. By far the cheapest, a three-tab shingle roof can cost as little as $2.70 to $3 per square foot. According to roofingcalc.com, the roof replacement cost is between $3.50 and $5.50 per sq ft — which includes all material, labor, permit fees, and cleanup.
Three-tab shingles:

$7,000 to $12,000

30-year shingles:

$9,000 to $15,000

50-year shingles:

$11,000 to $20,000

EPDM flat roofing:

$8,000 to $14,000

TPO or PVC membrane for flat roofing:

$10,000 to $15,000

Wood shake:

$14,000 to $25,000

Aluminum shingles:

$15,000 to $28,000

Standing-seam metal roofing:

$23,000 to $30,000

Slate:

$25,000 to $50,000

Concrete tiles:

$20,000 to $40,000

Spanish Clay tiles:

$25,000 to $50,000
Best Time Of Year For Roof Replacement
We're lucky to have reasonable weather and temperatures year-round in Atlanta, so Atlanta roofing replacements can happen 12 months out of the year. The busiest season for most Atlanta roof replacement companies is the spring to fall time period. This is typical because homeowners are outside and more focused on their home improvement list. That being said, winter could be the best time for you to get a roof replacement if you don't have holiday conflicts. Atlanta roofing companies are typically less busy this time of year, so you may be able to get better pricing. Regardless of the time of year, the non-negotiable thing to look out for is dry weather. It requires at least one full day of no rain in order to replace a roof. Sometimes, for larger projects it can take multiple days. It all depends on the size and complexity of your roof replacement project.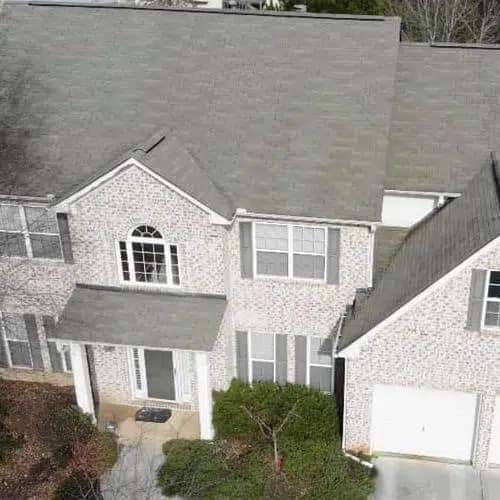 Understand the Process
In order to make the best decisions for you and your roof, it's important that you understand the roof replacement process and some of the general terminology used in roofing. Check out our blog on "When to replace my roof" for more information on timing.
A reasonably sized (3000-4000 square foot) Atlanta roof replacement project will often be completed in one day. However, if you choose to use one of the specialty materials like slate, metal, or tile, the process may take longer. These materials are more complicated to install and require special tools. In general, the roof replacement process follows these 10 steps:
Materials are ordered and delivered to the property: There are a couple of ways that the materials may be left at your property. Some Atlanta roofing companies perform ground drops, meaning that the materials are left on your driveway or the street in front of your house. Other roofing companies may have them lifted onto your house prior to beginning the job.
Crew arrival and removal of existing shingles: The crew will generally arrive very early for a roof replacement job. The tear-off process takes a couple of hours depending on the size of the roof and the existing material type. You'll see most good roofing companies lay down tarps through the duration of the roof replacement in order to protect plants, lawn, and other objects lining the side of your home. The existing material will be dropped from the roof onto the tarps and then piled into a rollaway dumpster.
Decking/Sheathing repair and flashing repair: Now that the roof is down to the plywood, the crew will look for rotten wood that may need to be replaced. They'll also look for any damaged flashing that may need to be replaced. Typically, the flashing that is not damaged or causing leaks will be left in place during the roof replacement.
Lay down underlayment: There are a couple of different kinds of material that will be applied on top of the decking during your roof replacement. First, a reinforced ice and water shield will be installed in the valleys of the roof, as well as in any high risk areas (meaning you've had leaks in the past or your roofer thinks there's a high chance of water penetration in the future). Next, a synthetic underlayment will be applied on top of all of the remaining exposed decking.
Metal drip edge will be applied to all rakes and eaves (see below for definitions): This is simply an L-shaped piece of metal that goes along the perimeter of your roof to keep water from dripping down onto your fascia boards or into the soffits. This is something that wasn't used prior to 20 years or so ago, so if you haven't had a roof replacement recently this may be an improvement to your prior roofing system.
Apply starter shingles: Starter shingles are designed to provide extra support against wind damage and other types of storm damage that might occur to your roof. They are applied along all of the rakes and eaves to add extra support for the shingles along the perimeter of your roof.
Install shingles or other roofing material: This is when your roof replacement really starts to look like a roof again. The shingles will be laid from the bottom corners on your roof towards the peak and interior. This typically takes an hour or so for every 1000 square feet.
Place ridge vent and ridge cap: This is a more modern way of ventilating your home. Ridge vents may not exist on older homes, but are typically installed as part of an Atlanta roof replacement in order to improve the air circulation in the attic. You can expect some solid energy savings following your roof replacement if you did not previously have attic ventilation. Finally, ridge caps will be installed on top of all ridge vents and hips on your home.
Cleanup and final inspection: The last step is for the crew to clean up the exterior of your home and inspect the roof to insure nothing has been missed on your roof replacement in Atlanta.
Read our Blogs on Roof Replacements
Roof Replacement Terms
The roofing business uses some special terminology when estimating materials for a roofing job.
Square: This is the main unit of measurement in roofing. One "square" equals 100 square feet.
Bundles: Shingles are typically sold in bundles, where 3 to 4 bundles cover 100 square feet.
Rakes: These are the perimeter edges of your roof that are angled towards the ground.
Eaves: These are the perimeter edges of your roof that are parallel to the ground.
Hips: These are the convex ridges where two facets of your roof come together. They are typically at an angle greater than 90 degrees.
Ridges: These are at the peak of your roof where two sloped facets come together.
Valleys: These are the concave areas on your roof where water can collect. They receive ice and water barriers during your roof replacement.
Call us today at (678) 365-3138 if you're ready to move forward with your roof replacement in Atlanta, GA. We're happy to help in any way we can!
Other Cities we serve in Metro Atlanta