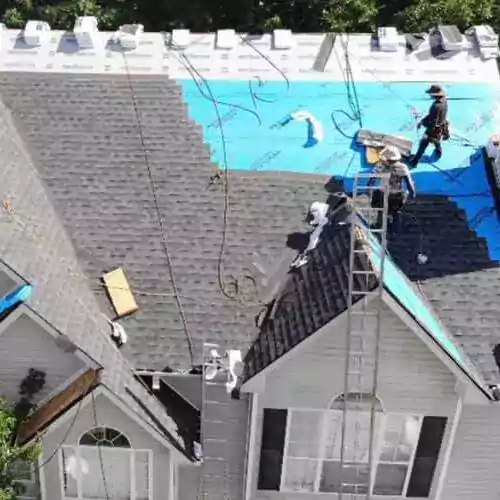 Residential Roofing Experts
Is it time for you to replace your roof? Are you having problems with leaks? From replacing your roofs to repairs of all kinds, when you need a residential roofer in Atlanta, GA, you'll want a residential roofing contractor that's local and uses experienced handpicked crews. You'll find those qualities and more from the professionals at Colony Roofers. To find out more about how we can help you with your next roofing project, all you need to do is call (678) 365-3138.
Residential Roofing FAQ
What is the best type of roof for a house?
What is the life expectancy of architectural shingles?
What is the best residential roofing shingle?
What is the most durable type of roof?
Our Residential Roofing Services Are Extensive
In the years Colony Roofers has been in business, we've established ourselves as a leading residential roofer in Atlanta, GA, first and foremost, by always providing exceptional service. Moreover, we also offer an extensive range of services. A locally owned and operated roofing company, our talented professionals can help you with everything from repairing damaged asphalt shingles to installing new gutters so water will drain away from your roof properly. Every member of our roofing crew is handpicked for their experience, talent, and integrity.
All of our services are provided at affordable prices, and we use only first-rate materials from leading manufacturers. You'll never have to worry about us cutting corners or providing poor service whether we're putting up a new roof for you or making some minor repairs. We back up all our work with some of the best long-term product warranties around. No matter what roofing solution we provide for you, we are dedicated to quality customer service. Our goal is to establish long-term relationships with all our customers.
Some of the service offerings we provide as a residential roofer include:
Asphalt shingle roof repair and replacement: Whether your roof has traditional 3-tab asphalt shingles or architectural shingles, our crews can handle any repairs you need. When your roof is ready to be replaced—usually after about 20-25 years—you can count on our team to ensure your roof is put up perfectly.
Gutter installation and repair: Gutters are essential to your roof and the rest of your home. Not only do gutters handle water draining off your roof, but they also keep water away from vital areas of your home like the foundation. You want to keep them in good repair, and when you need new gutters give us a call at (678) 365-3138.
Roof replacement: We have talented and experienced crews available to replace your roof. They are skilled with a variety of roofing systems from traditional 3-tab to metal and everything in between.
Roof repair: Whether you have a few cracked or curling shingles or need a leak patched, no repair is too hard for our crews. They'll make sure your roof is performing at its best in a short time with their fast and effective repairs.
These are just some of the services we can help you with. Along with extensive residential roofing services, we also offer a long list of commercial roofing services. You can also get our help throughout the Atlanta, GA area.
Call Us Today
Whether you need a repair on an asphalt shingle roof or need your roof replaced, when you want a trusted local residential roofer in Atlanta, GA, you need to look no further than Colony Roofers. We offer an extensive range of roofing solutions to fit your needs and budget. Find out how we can help with your next roofing project by calling (678) 365-3138.