Metal Roofing Installation & Repair in Atlanta, GA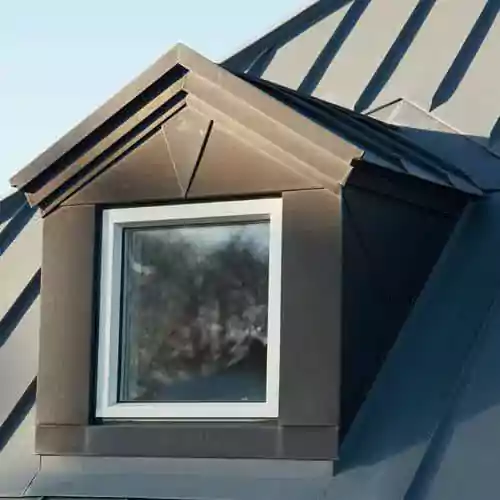 Metal Roofing Experts
Metal roofs have become increasingly popular for residential roofing. It's easy to see why. Besides being durable and having a long life—50 years or more—you can get metal roofs in a variety of styles and colors. With most metal roofs, you can get standard panels like standing seam or you can get specially made tiles or shingles to fit your home's design.
Your options in metals range from aluminum to galvanized steel to copper, so there is plenty to choose from. If you are interested in metal roofing and want an experienced team for metal roof installation in Atlanta, GA, you need to look no further than Colony Roofers. If you're looking for metal roof installers near me, then the metal roofing company in Atlanta, GA, you should contact first is Colony Roofers. You can learn more about us or get an estimate by calling (678) 365-3138.
Metal Roofing FAQ
Which metal roof is best?
Can you put a metal roof over shingles?
Does a metal roof lower insurance?
Benefits of Metal Roofs
One reason Colony Roofers began providing metal roof installation in Atlanta, GA is that we recognized how versatile and durable these roofing systems are. Not only will you get a roof that will last 50 years or longer, but you also have more choices with this type of roof than with almost any other roofing system on the market today.
Metal roofs can be styled to look like shingles or tiles or you can install snap-lock standing seam panels and you'll get the same protection and value. Modern metal roofing also comes in a variety of colors to fit any home design. Among the metals that you can choose for a metal roof installation are aluminum, galvanized steel, and copper.
While Colony Roofers can work with any type of metal roof, we specialize in copper and snap-lock standing seam metal.
Copper roofing: While initially a little more expensive than other metal roofing materials, copper offers benefits other metals do not. Besides being very aesthetically pleasing, they actually improve with age, rather than show deterioration like other metals. Like aluminum, they do not rust, although they can corrode. They are also lightweight and generally won't require any extra support when installed.
Standing seam metal: Although metal roofing can be shaped like shingles or tiles, standing seam metal is still preferred by many homeowners because it's offered in multiple lengths, widths, and thicknesses. For residential roofing, snap-lock standing seam is the most common choice.
Like all standing seam, the fasteners, which snap together, are concealed under the seams of the interlocking panels. This protects the fasteners from weathering and damage, lessening the chance of problems like leaks. Metal roofs expand and contract slightly, but the standing seam allows for that.
Metal Roof Repairs
While metal roofs are durable and low maintenance, they are still subject to wear and damage. But, when you need metal roof repair in Atlanta, GA, our experienced crews will have you covered, no matter the problem. Of course, one common problem metal roofs experience is rust, often caused by leaks.
While our skilled professionals can patch leaks or replace rusted metal panels, one option some take is a roof coating. Elastomeric coatings like silicone or acrylic are applied over the roof and create a barrier against leaks. They are also reflective and benefit your home's energy efficiency.
Another concern people have about metal roofing is noise. Most metal roofs are backed with rigid foam insulation for noise reduction. Another option for noise reduction is foam roofing.
Because it is less aesthetically appealing, it is more often used in commercial metal roofing, but can be used on residential roofing as well for noise reduction. Foam also protects the roof from leaks and improves energy efficiency.
When you choose Colony Roofers for metal roofing, whether you need installation or repairs, you can count on our crews to provide exceptional service at all times. When you work with us, you never have to worry about us cutting corners. Our personnel are exceptional and so are the materials they work with.
We always use first-rate materials from leading manufacturers. These materials are all backed by some of the best warranties in the business. The other thing you can count on from us is fair pricing. We make every effort to work within your budget on our roofing projects.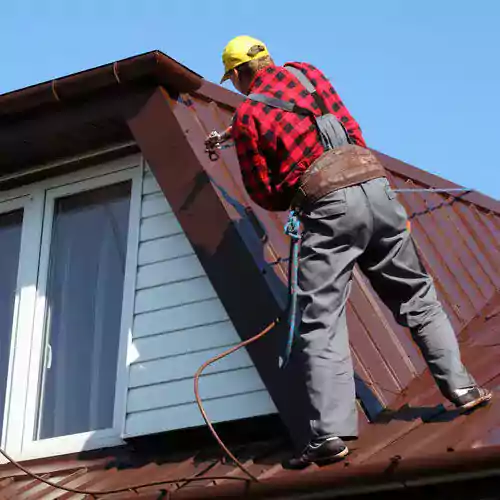 Schedule Us Today
You can see why metal roofs are growing in popularity. They're durable. They're versatile and your options are nearly unlimited. Moreover, when you choose Colony Roofers for metal roof installation in Atlanta, GA, you're getting a trusted team of local and experienced professionals on your side.
We offer an extensive range of residential roofing solutions and will help you find something that fits your needs. Learn more about what we can do or get us on your schedule for an estimate by calling (678) 365-3138.