Agricultural Metal Roofing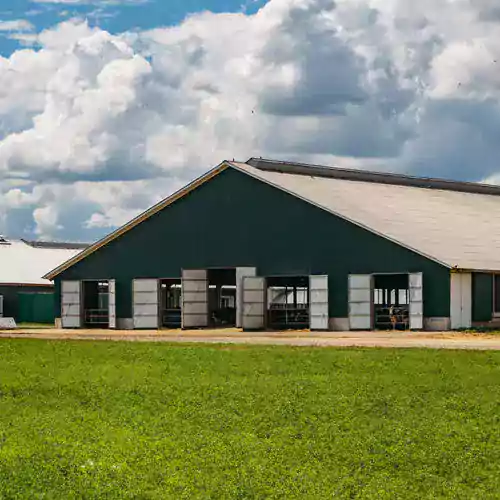 Metal Roofing Specialists
When it comes to protecting livestock or various storage facilities, metal roofing is hard to beat for agricultural buildings. Metal roofing is durable, requires little maintenance, and withstands all extremes of weather. Metal roofing is also one of Colony Roofers's specialties and our expertise is often required for agricultural metal roofing in Atlanta, GA and surrounding communities. To learn more about us or to get started on your next roofing project please give us a call at (678) 365-3138.
Benefits of Metal Roofing for Agricultural Buildings
Whether you're roofing a new barn or want durable covering for grain silos, you'll be hard-pressed to find anything more sturdy than a metal roof. Moreover, you're getting a roof that will last 50 years or more with little maintenance required. You can also have Colony Roofers add roof coatings or foam to improve energy efficiency and keep buildings like livestock shed or storage facilities cooler and more comfortable. When you need a reliable and local roofing contractor for agricultural metal roofing in Atlanta, GA, we have a handpicked roofing crew ready to take on the project.
Another advantage of metal roofing is that you can use a variety of materials from aluminum to galvanized steel or even tin and choose from traditional corrugated roofing or several styles of standing seam metal roofs. While metal roofs are durable, they aren't invulnerable to damage, specifically experiencing problems like leaks or rusting. Our skilled professionals are highly capable of agricultural metal roof repair as well. They will be able to find the right solution for your repair, whether it's patching or replacing panels or even applying coatings to seal leaks and stop rusting. Whatever service they provide, it will always be exceptional. You will also find our pricing highly affordable.
Call Us Today
If you want durable roofing for your agricultural facilities, metal roofing is the way to go. For reliable and professional agricultural metal roofing in Atlanta, GA, you can always count on Colony Roofers. With our extensive range of a commercial roofing services, we can always find a solution that fits your needs. Call us today at (678) 365-3138. to learn how we can help you with your roofing project.