Elastomeric Roofing in Atlanta, GA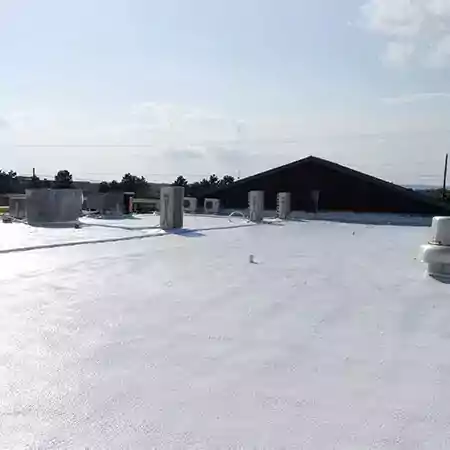 Roof Coating Professionals
When your building's roof begins to show any signs of aging, you have to decide whether to go to the expense of full roof replacement or restoring your roof with the best elastomeric roof coating. If your roof needs no or few repairs, the latter option is the most cost-effective, and you'll find your roof's life will be extended for years to come. Once you've decided to restore your roof, you'll want to find reliable local professionals experienced with elastomeric roofing in Atlanta, GA. You'll find those skilled experts at Colony Roofers. We are always just a phone call away for your next roofing project. All you have to do is dial (678) 365-3138.
Benefits of Elastomeric Roofing
As its name implies, elastomeric roofing has a high amount of elasticity. That means it will expand and contract with your roof as temperatures fluctuate, which makes it durable and better capable of protecting your roof from leaks and other damage. Many elastomeric coatings are also highly reflective, so they'll cool your roof and improve your building's overall energy efficiency. With an elastomeric roof coating application in Atlanta, GA, you're sure to save money for repair costs and utility expenses. You'll especially save money when Colony Roofers applies your coating because our prices are exceptionally affordable and our warranties are some of the best in the business.
An elastomeric coating has many commercial and industrial applications. These coatings can be applied to almost all commercial roofing systems, ranging from built-up roofing to metal roofs, as well as single-ply systems like EPDM. These coatings are especially effective for commercial roofs, as they seal over small leaks and prevent new leaks from occurring. In addition, after about 10-15 years, the coatings can be reapplied to further extend your roof's life.
Give Us a Call
When you're looking for exceptional all-around customer service paired with quality workmanship and material, you'll never go wrong with the trusted local professionals at Colony Roofers. We provide a full range of commercial roofing solutions including elastomeric roofing in Atlanta, GA. Give us a call at (678) 365-3138. to get your next roofing project started today.