Commercial Foam Roofing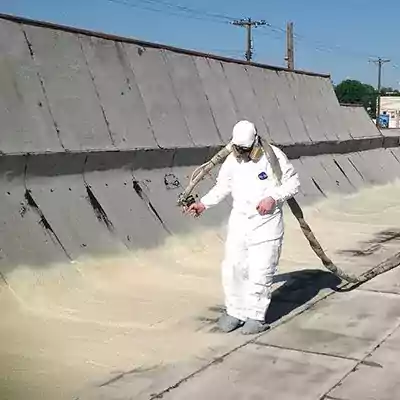 Experienced Foam Roofing Professionals
Whenever you have a flat roof, at one time or another, you'll probably experience leaks. These leaks are usually caused by water collecting in areas where there is poor drainage. If you are constantly repairing leaks, you may want to consider foam roof installation. With a foam roof application, you can prevent leaks and save money through improved energy efficiency. When it comes to commercial foam roofing in Atlanta, GA, Colony Roofers has the experienced professionals to get the job done right. Find out how we can help or schedule a service by calling (678) 365-3138.
The Benefits of Foam Roofing
Saving money is always important when you're a business owner or building manager. If you're spending money on roof repairs, especially leaks, or your roof is older and ready to be replaced, one cost-effective option to consider instead is a foam roof installation. Foam roofing creates a seamless barrier over your roof that seals up small tears or holes and prevents new leaks from developing. Moreover, if your roof is in relatively good shape, foam roofing can be used to restore it. This is a viable, affordable alternative to roof replacement that will extend your roof's lifetime for years to come. If you want to save money with commercial foam roofing in Atlanta, GA, count on the expertise of Colony Roofers.
In addition to more protection, once the foam roofing hardens over the roof and a roof coating is added, it insulates the roof, improving heat transfer and energy efficiency. You'll save money on energy bills as your HVAC system will be less strained and use less energy to heat and cool. These are just a few of the benefits of commercial foam roofing. And, if you have a foam roof that's been damaged, you can count on Colony Roofers for foam roof repair.
Schedule Us Today
If you are ready to save money and preserve your roof with commercial foam roofing in Atlanta, GA, you are just a quick phone call away from exceptional service. Colony Roofers offers a full range of commercial roofing solutions. Learn how we can help and schedule us today by calling (678) 365-3138.
To preserve your roof and improve energy efficiency, use SPF spray foam roofing.