Cool Roofing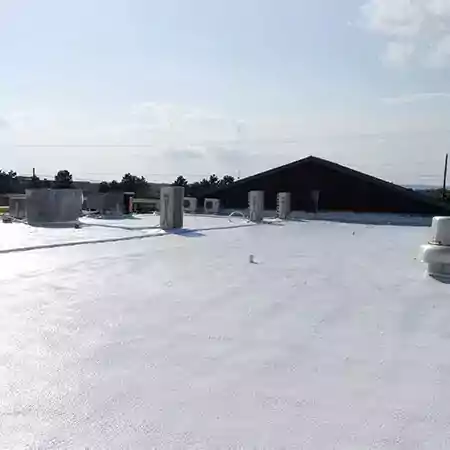 Cool Roofing Experts
Everybody wants to save when it comes to energy expenses. One way to do this with commercial properties is through cool roofing. This means installing reflective roofing material that improves heat transfer and enhances energy efficiency. To do this you can install light-colored roofing materials like TPO or get reflective roof coatings applied over a current roofing system. When it comes to expert cool roof installation in Atlanta, GA, rely on the professionals at Colony Roofers. We offer a full range of commercial roofing solutions. Find out if reflective roof installation is a good option for your building by calling (678) 365-3138.
Benefits of Cool Roofing
When you choose Colony Roofers for cool roof installation in Atlanta, GA, you'll get a trusted local team that understands the necessities of managing your roof's energy efficiency. As you know, summers in Georgia can be particularly hot, and that will put a strain on your cooling system, making it work harder and use more energy. That's why cool roofing is ideal for warmer climates. Whether you're installing a new roof or putting on roof coatings, you want that roofing system to reflect the sun's ultraviolet rays and transfer heat better throughout the building to keep it cooler and more energy efficient.
Single-ply roofing membranes like TPO have become very popular among commercial builders for this very reason. This reflective material not only enhances energy efficiency, but it is also tough and durable. Moreover, it's inexpensive to install and easy to repair. And when you need cool roof repair, we are just a phone call away.
While single-ply roofing systems are great when you are installing a new roof, if you want to save your current roof, but make it cooler and more energy efficient, you can reach out to Colony Roofers. We can install elastomeric or silicone coatings that will cool your roof and protect it from leaks and damage.
Call Us Today
When you want quality craftsmanship when it comes to cool roof installation in Atlanta, GA, let the trusted professionals at Colony Roofers take care of you. We offer a broad range of commercial roofing solutions and you can get your next project started by calling (678) 365-3138.