SPF Spray Foam Roofing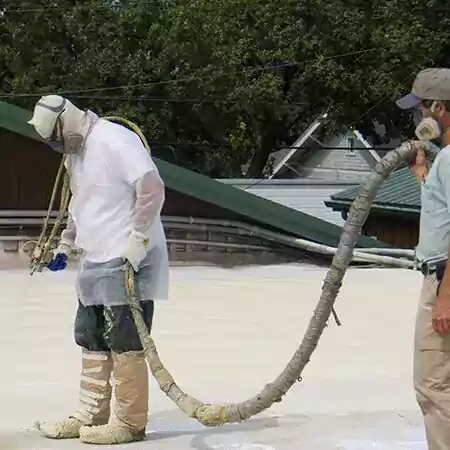 A Leader in Foam Roofing
One of the most common materials used in commercial foam roofing is SPF spray foam, a lightweight but durable material that will protect your roof for years to come. With an SPF spray foam roof application, your roof will protect you from leaks and other damage, as well as improve its energy efficiency. Over the years, Colony Roofers has become the trusted local leader in SPF spray foam roofing in Atlanta, GA. Our professionals have the skills and experience to get the job done right. Find out how we can help you by calling (678) 365-3138.
How Spray Foam Works
An SPF roof application is a great way to preserve and protect your roof without the expense of a full roof replacement. With Colony Roofers you can always count on exceptional service when it comes to SPF spray foam roofing in Atlanta, GA. We're also leaders when it comes to foam roof repair, so anytime your roof is damaged, you can count on our experts to get it repaired fast and effectively.
Made up of isocyanate and resin, SPF foam begins to expand as these two chemicals react and the foam hardens directly over the roof, creating a lightweight but solid membrane. This membrane seals over small holes, shields the roof from further damage, as well as prevents future leaks. Because the foam can deteriorate through long-term sun exposure, it is covered with an elastomeric roof coating like acrylic or silicone. These materials combined improve your roof's insulating abilities and you'll save on energy expenses as a result because energy efficiency is improved. After 10-15 years, the coating can be reapplied, so you'll have long-term protection for your roof. All of these applications are provided at affordable prices when you choose Colony Roofers for foam roofing. We also offer some of the best long-term product warranties in the business.
Call Us Today
If you are looking for exceptional quality SPF spray foam roofing in Atlanta, GA, you need to look no further than Colony Roofers. We provide an extensive range of commercial roofing solutions. Give us a call at (678) 365-3138. to begin preserving your roof today.