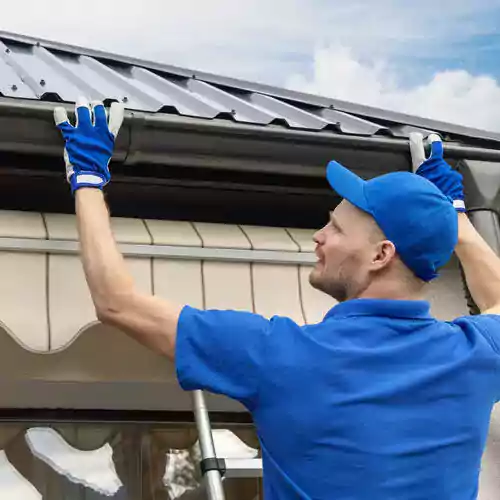 Gutter Installation and Repair Specialists
Gutters are an essential part of your roofing system. Not only do you need them so water will drain off your roof properly, but they also keep water away from your home, especially your foundation. If they clog or leak, your roof and home could suffer. When you need new gutters, you'll want help from a trusted local team that provides first-rate service when it comes to gutter installation in Atlanta, GA. For quality craftsmanship and superb service every time, look to the professionals at Colony Roofers. You can get an estimate for gutter installation or repair by calling (678) 365-3138.
How much do gutters cost?
What is the lifespan of gutters?
When should you clean your gutters?
When do you know you need your gutters cleaned?
Gutter Services That We Provide
Improperly installed gutters cause all kinds of problems for your roof. If they aren't placed close enough to the roof, for instance, water can seep under shingles, causing leaks, or drip down and erode the soil around your foundation. When the time comes for new gutters, you'll want to make sure they are installed properly to prevent these types of problems. You never have to worry about faulty gutter installation in Atlanta, GA when you choose Colony Roofers. Our crews are highly skilled technicians dedicated to quality workmanship no matter how they're helping you.
We can install all varieties of gutters from vinyl to aluminum to stainless steel, as well as seamed or seamless systems. Our professionals can help you determine what will work best with your roofing system and fit your budgetary needs. Of course, you never have to worry about breaking the bank when you work with us. We offer the most affordable prices around as well as some of the best long-term product warranties in the business. You'll save money working with us. As your gutters age or fall into disrepair, make sure to contact us for gutter replacement as well. You'll also want to consider replacing your gutters when you replace your roof so the systems will fit perfectly together.
Gutter Repair
Keeping your gutters clean is essential to good gutter maintenance. When they get clogged with debris, not only will this prevent water from flowing correctly, but also as the clog builds up it weighs the gutter down. This can cause the system to pull away from the fasteners and sag. It can also cause seams to break and leaks to develop. Should you ever have any problems like these, all you need to do is call (678) 365-3138 for gutter repair. Your gutter won't be out of service for long with our professionals working on them.
Call Us Today
If your gutters are sagging or leaking and you're ready for new ones, count on the trusted local professionals at Colony Roofers for gutter installation and repair in Atlanta, GA. We offer a full range of gutter and roofing solutions throughout the area. Find out how we can help you by calling (678) 365-3138.