Hospital Roofing Contractor in Atlanta, GA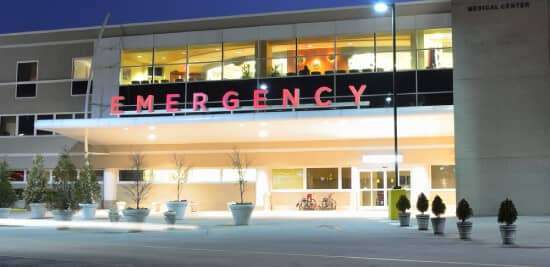 Roof Repair and Installation Experts
Hospitals and other healthcare facilities are essential, and it's essential to get repairs for the roofs on these facilities done quickly so as not to slow down operations. These facilities have a variety of roofing systems and when you need hospital roof repair in Atlanta, GA, you want a team that can get repairs done quickly and effectively. You find such skilled and talented professionals at Colony Roofers. We offer a full range of commercial and industrial roofing solutions. Find out how we can help you with your roofing project by calling (678) 365-3138.
Our Service Offerings for Healthcare Facilities
When you need a roofer for hospital roof repair in Atlanta, GA, you'll want an experienced team that understands a variety of roofing systems. Colony Roofers handpicks its roofing crews for their diverse range of skills and expertise. Whether your healthcare facility has a flat roof like built-up roofing or TPO or sloped roofing like standing seam metal, our team can make all necessary repairs fast and effectively. If you need a new roof on your facility, we are also available for hospital roof installation as well. No job is too large or small for our team.
Not only do our handpicked crews set us apart from our competitors for their skill and experience, but they also provide exceptional service no matter whether they're repairing a leak or putting up a new roof. We never cut corners on either personnel or materials. You'll find our crews using only first-rate materials from leading manufacturers. Moreover, when we provide you an estimate, you'll find our pricing very fair and our long-term product warranties among the best available in the business. As a local roofing contractor who has been serving the area for years, we understand our clients and their individual needs.
Call Us Today
When it comes to expert hospital roof repair in Atlanta, GA, the trusted local team to turn to is the one at Colony Roofers. We provide a complete range of commercial roofing solutions. You can learn more about us or set up a time to get an estimate by calling (678) 365-3138.