Industrial Roofing Services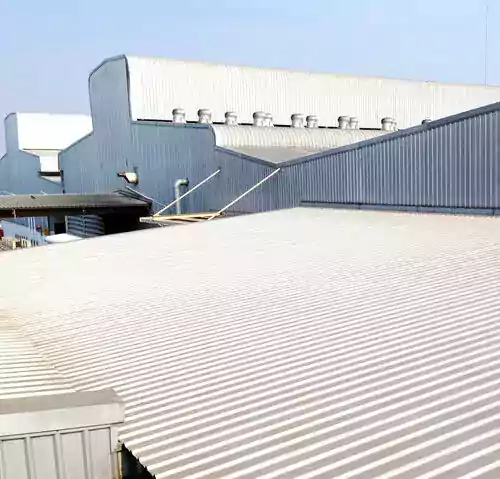 Industrial Roofing Professionals
Industrial roofing encompasses a wide range of applications, everything from warehouses to plants. Each will require different types of roofs. When you need industrial roof installation in Atlanta, GA, you'll want an experienced team with a diverse range of skills. You'll find that team at Colony Roofers. We offer a complete range of commercial and industrial roofing solutions. To get started on your next project, all you need to do is call (678) 365-3138.
Our Service Offerings
When it comes to industrial roofing in Atlanta, GA, and the surrounding area, almost any kind of roofing system could apply. If you need a standing seam metal roof for your warehouse or storage facility, Colony Roofers has you covered. We're also the team to call if your plant needs a new TPO roof or you want to restore your facility with a roof coating or foam roofing. Whatever industrial roof installation application you need, we can take care of you. We're also available for industrial roof repair.
What sets Colony Roofers apart from other roofing companies? First of all, you'll get an experienced and talented crew with a broad range of industrial and commercial roofing skills. We've had years of experience working on roofing systems of all kinds throughout the Atlanta, GA area, providing everything from repairs and replacement to coatings. We've worked on a variety of roofing systems on all types of buildings. Moreover, as a local commercial roofing contractor, we understand our clients' needs and their situations, as we've established a strong client base in the area.
Most of all, you'll get a team dedicated to providing exceptional service, whether they're patching a leak or putting on a whole new roof. You'll never have to worry about us cutting corners in any aspect of a project from personnel to using top-quality materials from leading manufacturers. You'll also find our pricing fair and warranties among the best in the business.
Call Us Today
Whenever you have an industrial roofing project in Atlanta, GA, you'll want a skilled, experienced, dependable crew for the job. You'll find that crew at Colony Roofers. Find out how we can help you by calling (678) 365-3138.