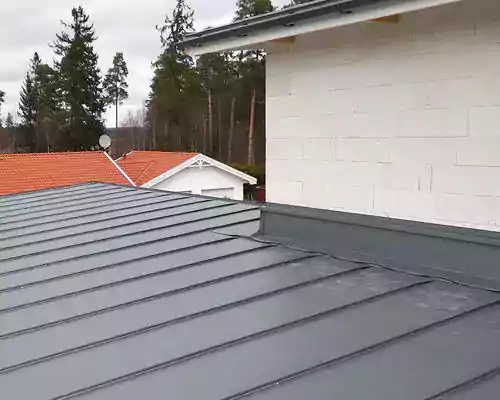 Aluminum Roofing Experts
When it comes to versatility, metal roofs provide more options than any other roofing material. Among the many options available is aluminum roofing, often favored for being lightweight and corrosion resistant. As durable as other metal roofs, it will fit almost any roof. If you are interested in installing aluminum roofing for your home in Atlanta, GA, you'll want to turn to the trusted local experts at Colony Roofers. Learn more about us or get an estimate by calling (678) 365-3138.
Benefits of Aluminum Roofing
Although more expensive than steel, many homeowners prefer aluminum roofing because it is lighter. If you have Colony Roofers install your aluminum roof in Atlanta, GA you won't need any additional support installed for it. Aluminum is actually lighter than asphalt shingles. Like other metal roofing materials, it requires little maintenance other than keeping it clean and free of debris, and you can expect it to last 40 to 70 years or more. Aluminum is also naturally highly corrosion resistant but further protection can be added with a metal roof coating, which will also improve the roof's energy efficiency.
While aluminum roofs are initially a little more expensive to install costs can be offset in various ways. Being naturally reflective makes aluminum highly energy-efficient, so you'll save long term on utility costs. Moreover, many insurers give discounts to homeowners for installing metal roofs and you may also qualify for some tax credits. Check with your insurer about available discounts and other benefits.
When you work with Colony Roofers, you'll discover our prices are affordable since we work from standardized pricing, and we back up our work with some of the best warranties available. We use only the best materials from leading manufacturers and never cut corners. You also can always expect exceptional service from our talented and experienced crews.
Give Us a Call Today
When you want high quality in aluminum roofing in Atlanta, GA, look to the trusted local professionals at Colony Roofers. We offer a comprehensive range of roofing solutions. Find out more about us or get an estimate by calling (678) 365-3138