Roofing in Johns Creek, GA
Are you looking for reputable roofing contractors in Johns Creek, GA? As the best Johns Creek roofers in the market, we have been helping property owners with their roof replacement in Johns Creek, GA, and roof repair needs for years. Furthermore, we're happy to offer free, no-obligation roof inspections to all of our customers.
Colony Roofers in Johns Creek, GA, has a reputation for quality, a reputation that has been hard-won after years of dedication and service to the community. If you're looking for roof repairs from storm damage, Colony Roofers is on the job.
Installing metal roofing? Colony Roofers can do it. Replacing a single roof? Colony Roofers has seen it all.
Roof leaks, flat roofs, steep roofs, bowing and sagging roofs, moss-covered roofs–we've been there and done that. And we can do it for you.
Roofing Services
There are a few major things you'll want to look for when selecting your Johns Creek roofers. Whether you're looking for roof repair in Johns Creek, GA, roofing contractors in Johns Creek, GA, Colony Roofers in Johns Creek, GA, is right here to help you.
Specific Experience: Make sure your roofing contractor has ample experience in the type of roofing you are looking for. There are many different kinds and few companies have a team with experts in each niche.
Local: There are many fly-by-night roofers that come around knocking on doors in Johns Creek trying to convince homeowners to file an insurance claim for roof storm damage. Don't fall prey to their tricks. Look for a Johns Creek, GA, roofer.
Reputation: You want to choose a company that has a long-standing reputation for great customer service. One of the easiest ways to do this is just by looking at Google reviews of the different roofing companies.
Warranties: This component tells you how much a company believes in its own work. If they won't stand behind the work, do you really want to trust them on your property?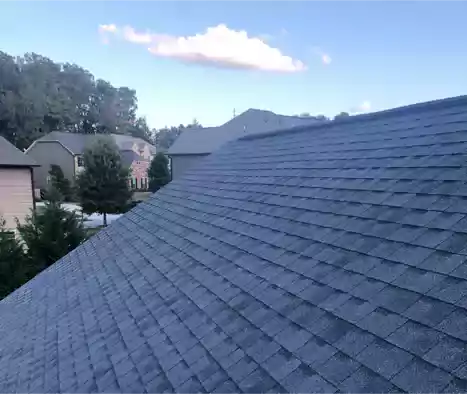 Residential Roof Replacement in Johns Creek
A roof replacement in Johns Creek typically consists of tearing off old shingles, underlayment, and flashings, and hauling them away. Next, we perform a thorough analysis of the roof decking to determine if any pieces need to be replaced. This concludes the tear-off stage of the roof replacement process.
Once the integrity of the roof deck is confirmed, our roofers will proceed with the roof installation by laying the new synthetic underlayment. This provides a completely watertight layer for your new roof.
After this, the new flashings (if needed) and drip edge will be installed. The drip edge is used along all of the rakes and eaves of your roof replacement to ensure roof leaks do not occur along the fascia board of your roof.
Next, the new roof shingles will be installed over all of the main facets. Lastly, your roof replacement will be completed with hip and ridge shingles, as well as roof vents.
A shingle roof replacement in Johns Creek will likely cost between $3-$5 per square foot of roof. This varies depending on the type of shingles selected, the steepness of the roof, and the amount of detailed roofing required.
Colony Roofers has completed over 1000 residential roof replacements in Georgia in the past three years and would love to help you with your roofing project.
Commercial Roof Replacement in Johns Creek
Commercial roofing in Johns Creek is far different from residential. There are many types of commercial roofs that we work on, but here are some of the most common Johns Creek roof replacement services we perform…
TPO: this is a type of single-ply membrane that is becoming more and more popular in Johns Creek. Some of its biggest benefits come from its durability and energy efficiency. Most TPO roof replacements will cost between $5 and $8 per square foot of roof space. The TPO membrane will have an expected life of between 10-25 years depending on the thickness.
EPDM: this is another type of single-ply membrane that is used on commercial roofing in Johns Creek. This is typically used on buildings that may have higher foot traffic, due to the fact that it is more flexible. However, the cost of this Johns Creek roof replacement will be very similar to that of TPO. Unfortunately, you will lose some of the energy efficiency benefits though. This material is typically black and absorbs heat instead of reflecting it.
Built-Up-Roofing: This is an older type of commercial roof in Johns Creek that can be identified by a multi-layered roof with pebble-like rock on top of the roof. This type of roofing is slowly being phased out in favor of the single-ply membrane roofing systems above.
Metal Roofing: One of the most popular materials that commercial roofing contractors in Johns Creek use is metal. There are many choices for a metal roof, but some of the most common are galvalume and galvanized steel. These metals are then formed into standing seam metal roof panels, R-panel, or Ag-panel roofing systems. For metal roofing in Johns Creek, GA, there's no one better than Colony Roofers.
Johns Creek Residential Roof Repairs
Johns Creek roofing repairs are some of the most common services we perform. While the roof on a home is typically designed to last 30+ years, there are a variety of roof leaks that may occur over that time. These can be caused by storm damage, heat-cold induced expansion or shrinkage in plastic or metal roof accessories, or poor installation.
Some of the most common roof repairs in Johns Creek are:
Roof leak Repair: roof leaks can be extremely sudden and cause tremendous damage to your home. We perform roof leak inspections to determine the cause and provide a solution.
Flashing Repair: Roof flashings protect your roof where two different surfaces of the home come together. This can be near a chimney, or around siding.
Roof Vent Repair: Vents in your roof serve a purpose, but can lead to roof leaks. We can typically solve issues with vents very quickly and affordably.
Skylight Repair: Yet another roof penetration, skylights can wreak havoc on a home if not sealed correctly.
Storm Damage Roof Repair: Large storms pass through the Johns Creek area and can cause tremendous roof damage. You need qualified Johns Creek roofers to handle this. Whether this is wind damage, hail damage, or tree damage, we are very experienced in assisting.
Hail Damage Roof Repair: Hail isn't extremely common in Johns Creek, but the area does get hail once every few years. Our team of roofers is experienced in the roof insurance claim process and will be sure to walk you through the process.
Tree Damage Roof Repair: Johns Creek is a heavily wooded area, which leads to debris and roof tree damage on a regular basis. This type of storm damage can be very extensive and even require structural roof repairs.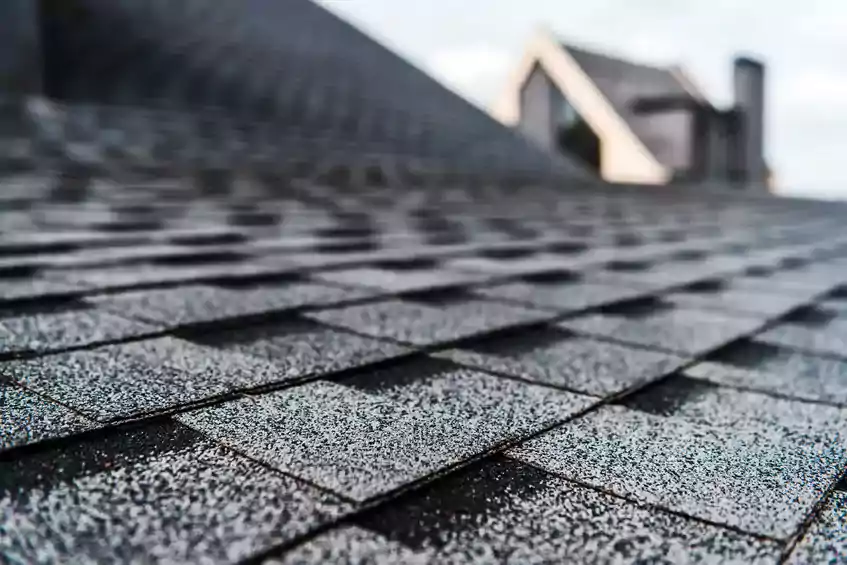 Wood shakes: These offer great longevity and curb appeal. This is a classic in Alpharetta roofing. However, be careful with using these if you're on a budget because they can be more expensive.
Metal Roofing: Metal roofing is becoming more and more popular in Alpharetta–metal roofing in Alpharetta, GA, is very well suited to the climate and weather, especially protecting against hail damage. We typically recommend 24 gauge standing seam metal to homeowners looking for that classic standing seam metal look on their homes.
Slate roofing: This is typically the "ultimate" roofing material used by Alpharetta roofing contractors. Its longevity and look are unmatched, but it comes at a price. You can expect to pay top dollar for a new slate roof.
Johns Creek Commercial Roof Repairs
Roof repairs on commercial roofs in Johns Creek range from easy to highly complex. Flat roof repairs are typically the most difficult, because of the nature of metal roof decking that is used on many commercial buildings. However, commercial roof leaks can be diagnosed by a trained professional roofing contractor in Johns Creek.
Roof repairs on pitched roofing systems are typically much easier and align with the roof repairs in Johns Creek that we perform on houses. Although, there is far more metal roofing used on commercial roofs.
Ready to get in touch with your Johns Creek Roofers?
Colony Roofers has assisted hundreds of customers with their roof replacement and roof repair needs and has a dedicated team standing by to assist with your roofing project. Call us today to schedule your free, no-obligation roof inspection and discuss your options with our experienced team of roofing contractors.
Check out our recent award as the best roofers in Johns Creek from Expertise.com!