Residential Roof Repair in Alpharetta, GA
Repairing a residential roof is typically pretty affordable. There are a number of roof repairs Alpharetta property owners may require over the life of their roof. Here are some of the more common residential repair services we provide and an idea of the cost of these roof repairs:
Roof Leak Repair:
Roof leaks in Alpharetta typically cost anywhere from $300-$3,000 to fix. This variance depends on where the leak is and how much time is required to mitigate the leak. The material needed is typically a rather small cost.
Pipe Boot Roof Repair:
This is a very common roof repair. If you notice water stain leaks in your bathroom ceiling, this is likely the cause. These are at the lower end of the range, typically costing between $500-$700 when done by a reputable roofing contractor.
Chimney Flashing Roof Repair:
This is one of the more complex and expensive repairs. We often see chimney flashing installed incorrectly, so ripping out the old flashing and reinstalling correctly will run between $1,500-$2,500.
Shingle Roof Repair:
It's not uncommon for shingles to come off the roof. This can cost $300-$1,000 depending on how many shingles need to be repaired.
Roof Storm Damage Repair

Strong weather can cause damage to your roof. This will typically cost a significant amount but should be covered under your property insurance.
Wind Damage Roof Repair:
Storms can cause high gusts that will displace or crease your shingles. This is also something that can result in high costs but may be covered by your homeowner's insurance.
Hail Damage Roof Repair:
Especially during the summer months, hail storms can pass through Alpharetta and cause serious roof damage. This is again something that may be covered by your homeowner's insurance policy, but it's best to get a trustworthy roofing contractor involved to help you through the process.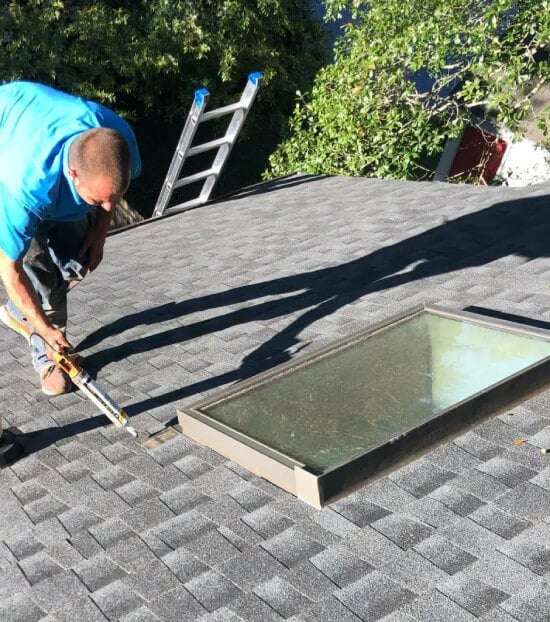 Are you in need of help with a roof repair in Alpharetta? The city of Alpharetta is home to some of the nicest homes in the State of Georgia. It is also home to rapid growth and development in recent years. The addition of upscale properties, like The Avalon, have made it a very popular place to live. These properties require an expert in roof repairs to ensure the issues are resolved quickly and correctly. As one of the top Alpharetta roofing companies, Colony Roofers has you covered!
FAQs
What are the signs that you need a roof repair?
What is the cost of a roof repair?
Should I repair or replace my roof?
Commercial Roof Repair in Alpharetta, GA
Commercial roof repairs in Alpharetta, GA are a completely different process and skill set than the residential repairs we've listed above. However, Colony Roofers team has over 100 years of experience in commercial roofing. Here are some of the services we offer:
Flat Roof Repair: Many commercial buildings are built with flat roofs. This type of roofing system requires very specialized knowledge in order to diagnose and mitigate leaks.
TPO Roof Repair: This is a type of roofing membrane material that is common on commercial buildings. Repairing TPO roofs requires a specialized set of tools and a crew with a lot of experience in this type of roofing.
EPDM Roof Repair: EPDM roofing is another type of commercial roof membrane that is often found in Alpharetta. However, EPDM is slowly being changed out for TPO on most commercial roofs.
Metal Roof Repair: Metal is a very common material used for roofs. It has unique resistance to heavy winds and weather. We have a specialized crew for metal roof repairs.
Why Colony Roofers?
Colony Roofers has become one of the top Alpharetta roofing contractors over the past few years. Our dedication to quality workmanship and customer service has impressed many clients. We have a resume of work that will give you full confidence in our ability to diagnose and fix your roof leak. Find out more about us or book an appointment by calling (678) 365-3138.