Best Roofing Company in Marietta, GA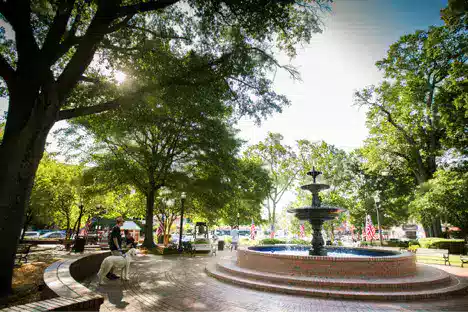 There are many roofing contractors in Marietta, but do you really want just any roofer? If you're looking for the best roofers in Marietta, you've come to the right place. Do you need a roof replacement, roof repairs, or new roof installation help? We handle everything; whether you need metal roofing in Marietta, GA, or even commercial roofing in Marietta, GA, Colony Roofers will take great care of you no matter what you need.
The best way to know whether you need a roof replacement or roof repair on your residential or commercial property is by getting professional roofers involved. Hiring a roofing contractor that has experience in the type of roofing material your property has is crucial.
With so many Marietta, GA roofing companies to choose, what makes Colony Roofers the best choice for your residential or commercial property? Marietta is one of the oldest cities in the State of Georgia and is home to both historic and newer construction sites.
Our roofing contractors in Marietta, GA, have incredible experience with all types of roofing. Whether you have a shingle roof, tile roof, or commercial roof, we have an expert to help you. Some of the most important things to look for when hiring a roofing contractor are:
Experience: Has the roofing contractor done work at homes in your area?
Ratings: What do other customers say about their experience?
Warranty: Do they back up their work with warranties that make you comfortable?
Colony Roofers has worked on hundreds of roofs in the Marietta area over the years and our team members are standing by to help you with your roofing project. Some of the most popular classic roofing in Marietta, GA, are:
We have performed roof repairs in Marietta related to flashing repairs, roof leaks, pipe boot sealing, and many others.
Roof Replacement Marietta, GA
Take a look at the bottom of this page to see some of our recent Marietta roof replacement projects. Colony Roofers has completed hundreds of roofing projects in the area and continues to provide customers with the most professional roofing services in the market. Click over to our roof replacement page for a guide on selecting your roofing contractor and the material for your new roof.
Roof Repair Marietta, GA
Do you have a roof leak repair in Marietta that you need help with? We have experience in all kinds of roof leak diagnosis and investigation. Some of the most common roof repairs we perform are related to the following roof components:
Pipe boot repair
Roof vent repair
Chimney flashing repair
Ridge vent installation
No matter what kind of roof leak you have, we can help you find out where the water is coming from and chart out a plan for how to stop it.
Marietta Roofing Materials
Asphalt Shingles: This is a very common material used by Marietta roofers. It tends to be the most cost-effective roofing material option. There are many different kinds of asphalt shingles. We typically recommend Certainteed or GAF shingles due to their superior quality and time-tested manufacturing processes.
TPO and EPDM Roofing: This is a common commercial roofing membrane material used for flat roofing systems in Marietta. It is particularly common on office roofs, hospital roofs, gas station roofs, and restaurant roofs.
Metal Roofing: Metal roofing is becoming more and more popular in Marietta. We offer all kinds of metal roofing material including standing seam metal roofs, Agpanel metal, R-Panel metal, and copper roofing.
Slate and Shake roofing: This material is typically reserved for extremely high-end roofing projects and is not a typical service provided by most Marietta roofing contractors. However, Colony Roofers has both slate and shake roofing experts on staff. This material has increased longevity and the look is unmatched, but it comes at a price. You can expect to pay three to five times more than asphalt shingles for a slate or shake roof.
Services Provided in Marietta, GA
Colony Roofers has established itself as the dependable local contractor for residential roofing in Marietta, GA by always providing exceptional service. Our experienced and skilled roofers are hand-selected and always act with integrity. They're dedicated to providing first-rate workmanship no matter whether they're patching a leaking roof after a storm or replacing your asphalt shingle roof.
Colony Roofers provides an extensive selection of roofing services from repair and replacement to other services and projects. We also offer a wide variety of commercial roofing services. Our crews are capable of working on a comprehensive range of roofing systems, including metal roofing.
You will never need to worry about our team cutting corners or using second-rate materials. We source all of our materials from top producers. We back up our work by providing some of the best long-term product warranties available. Moreover, you never have to haggle with us over prices because we use a standardized price list.
Why choose Colony Roofers for your Marietta roofing project?
Colony Roofers didn't become one of the best roofers in Marietta overnight. It has taken years of dedication. This is why we give all of our customers a completely free, no obligation, inspection. Call to schedule yours today at 678-365-3138 or schedule online now.
Don't Trust Us? Take a look at Expertise.com's report of top roofers…