Roofing in Brookhaven, GA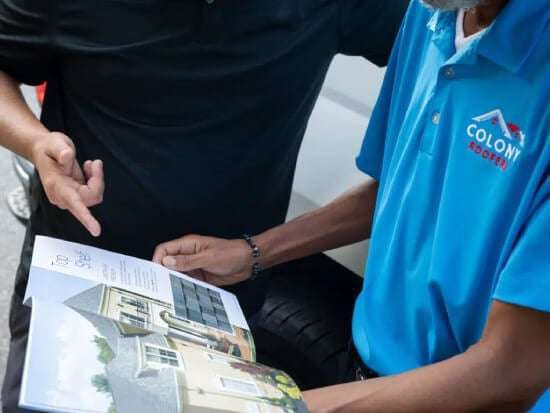 Experienced Roofing Experts
No matter whether you are wanting a few shingles repaired or a roof replacement, you will want experienced residential roofers dedicated to quality workmanship. For experience, quality and commitment to residential roofing in Brookhaven, GA, you will always discover it at Colony Roofers. Fully licensed and insured, we are a local roofing company that provides a broad range of roofing solutions. To learn more about our team or to get a quote, all you need to do is call (678) 365-3138.
Services Provided in Brookhaven, GA
By always offering exceptional service, Colony Roofers has established itself as the trusted local contractor for residential roofing in Brookhaven, GA. Our experienced and skilled roofing crews are hand-selected and always act with honesty. Whether patching a roof leak after a storm or replacing an asphalt shingle roof, they are committed to providing first-rate workmanship.
Our company provides a complete selection of roofing solutions from repair nd replacement to other roofing services and projects. Additionally, we provide a broad range of commercial roofing services. Our roofers work with a variety of roofing systems, that include metal roofs.
You will never need to fret about our team cutting corners or using second-rate materials. We source all of our materials from leading manufacturers. Our work is supported with the best long-term material warranties that you can find. Wrangling over prices is something you don't have to fret about because we use a standardized price list.
If you are looking for quality roof repairs with unparalleled service, look no further! We are one of the best roofing companies Brookhaven GA has to offer. Whether you have a leak, broken gutters, misplaced shingles, or you need to give your roof a fine-tuning, if you are looking for a roofing contractor in Brookhaven GA, let us give you peace of mind.
Count on Us for Roof Repairs (and Much More)
The roof is the biggest line of defense between you and the elements which is why we provide comprehensive emergency roof repair that gets under the hood of the problem! If you are worried about the state of your roof and you need somebody to look at it now, we are a phone call away.
We don't just provide basic services to roofing issues in Brookhaven, but our professional services always provide the customers with what they need, and nothing less. When you get in contact with us you can expect:
Accurate quotes.
Flexible scheduling options.
The best rates on replacement materials.
And much more! If you want to learn about us, get in contact today.
Our Services
We take pride in what we do, and when you are on the lookout for roofers in Brookhaven GA, we are happy to offer stellar service that meets your needs and expectations. You may think you have high standards, but when it comes to roof repair in Brookhaven GA, we go to the next level!
Residential Roofing Inspections
When you see the signs of a leak, this can highlight a more serious problem coming to the surface. If you are looking for a new roof in Brookhaven, it's important to choose contractors that invest time into the process of inspection. Yes, we come out to repair your roof, but we do more than that. We address all of the underlying issues, ensuring your roof will be stronger than ever.
Roof Repair
The roof can be a very sensitive part of your home because it is exposed to a whole manner of adverse weather conditions on a daily basis. Whether a storm has caused damage to your gutters or you suddenly notice a leak in the roof, we can help you deal with this problem quickly. Some of our key services involve:
Flashing repair.
Leak repair.
Roof shingles repair.
Roof vent repair.
Quick Roof Replacement
If you are looking for roof replacement in Brookhaven, we ensure we get your house quickly and deal with the issue with a fast turnaround. This ensures you get back to what's important. After all, when it comes to roof repair in Brookhaven GA, you don't want us there for longer than is necessary. This is why we aim to make life easier and ensure that, in addition to our fast turnarounds, you can schedule our contractors at the times that suit you.
A Roofing Contractor in Brookhaven GA You Can Trust
There will be times when you won't need a roof replacement, but there will be times when you are concerned about the overriding costs. This is why we believe our integrity in our work has made us one of the best local roofing companies Brookhaven GA has to offer.
This is why, when we perform your roof inspection, we can give you a detailed analysis of everything that needs to be done. Ultimately, we aim to provide the essential work that will keep your property in the right condition without adding more than is necessary. Trust is pivotal to us, which is why we aim to make everything suitable for your needs.
Full-Service Roofers in Brookhaven GA
We ensure that your roof gets the work it needs but if you need more to bring your property back up to code, we take pride in offering a variety of services that guarantees your roofing meets the strictest standards. These include:
Gutters.
Chimney.
Flashing.
Interior work.
And much more.
Why Should You Choose Us?
There are many roofing companies in Brookhaven GA, but if you are looking for a service that doesn't just fix the problem, but takes a deep dive into the underlying causes with a dedication to customer service that is unparalleled, rest assured, you've made the right choice with us!
We focus on a friendly service with strong communication, all at an affordable price. From the initial quote to the end product, we make sure each stage of the process is a worthwhile investment.
The roof is the most important part of your home, and when you don't have a solid roof to protect you and your loved ones, you will soon notice! Throughout every stage of the process, we ensure we provide a service that highlights us as the essential roofing contractor in Brookhaven GA.
With years of experience, we have the knowledge to provide a stellar service that gives you everything you need and nothing less. Roof damage is not a one-size-fits-all approach and it requires a comprehensive assessment, which is why we've learned to assess and inspect roofs in a manner that ensures we don't cut any corners. You can always expect the following with our services:
Insured and certified contractors.
Competitively priced services that guarantee you are not out of pocket.
Free consultations with no obligation to proceed.
A customer-focused service.
If you are looking for a contractor to conduct roof repair in Brookhaven GA, you've got to choose the right one that meets your needs. If you are looking for guidance and assistance, we provide a wide range of services and can get to work on any type of property. When you get a leak, this could be the first sign of trouble, which is why you need to choose a service that can get to work with affordable repairs and deal with roofing systems that are beyond repair in a cost-effective manner.
Does Your Roof Need Repair?
If you think your roof needs repair and you need a second opinion, get in contact with us. As a local Brookhaven roofing company, we can get to work and help you understand the extent of the issue and make any leaks a thing of the past. If you want to set up a consultation, get in contact with us today.
Call Us Today
When you're searching for first-rate residential roofing in Brookhaven, GA, you can always rely on the dedicated team at Colony Roofers. Our workmanship is impeccable, our prices affordable. Schedule us now to begin your roofing project by calling (678) 365-3138.