»

»

How does cool roofing work
How Does Cool Roofing Work?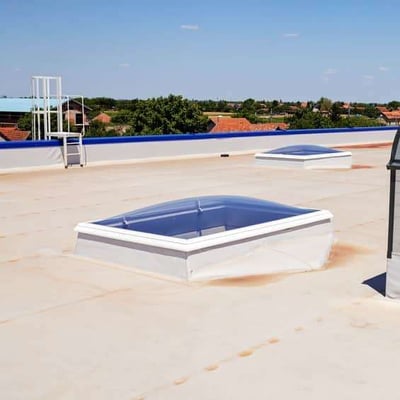 Zach Reece
Keeping your property cool
With all the concerns about environmentally friendly structures and utilities, cool roofing has become a fast growing sector for commercial structures. What is cool roofing? This is roofing that is designed with the ability to minimize the absorption of heat from the sun's UV rays.
Cool roofing is made with either white or light colored reflective products that are similar to a thick paint. This coating provides the existing roof and structure protection against chemicals, ultra-violet rays, and limited water protection. So, is cool roofing good? Yes, there several benefits of having cool roofing installed on a commercial structure, and more owners are realizing those benefits every year. Some of the benefits of cool roofing are:
Save on utility bills with reduced air conditioning use.
Minimal maintenance required with cool roofing
Cool roofing extends the lifespan of the roof.
Indoor comfort is improved with better temperature inside.
Reduced contribution to heat island effect.
Reduced contribution to air pollution.
Reduce waste in landfills.
What does a cool roof do?
The roof on a commercial structure is typically a flat, horizontal surface that receives as much as 1000 watts of sunlight on a summer day at noon. A dark roof absorbs that sunlight and transfers the heat into the structure, making the air conditioning work harder, using more electricity. A cool roofing application does the opposite.
How does cool roofing work?
Cool roofing reflects the sun's heat back into the atmosphere, away from the building, keeping it cool. There are two properties involved in this process that are measured using 0 to 1 with the higher the number, the better the job it does:
Thermal emittance – the ability to radiate heat
Solar reflectance – solar energy the roof reflects
What is the coolest roofing material?
To be a facilities manager of a commercial structure, you sometimes have to take crash courses in certain things, like cool roofing. Take a moment to review the following types of roofing for commercial structure now so that you can be the informed one when the time comes.
First, you should realize there are two roof types: low slope and steep slope. Commercial structures are generally large square footage, and a low slope is the common roof type. The have the slight slope to aid in draining. The roofing materials commonly used on commercial structures are:
Single Ply Membrane: These is a mixture of the alphabet when discussing roofing membrane types. EPDM and PVC are the more commonly used roofing materials in this category. Considerations for this type of roofing:
Different substances are used with the different membrane types to get the desired physical properties.
Applied as one layer.
A flexible and UV-resistant product.
Normally not compatible with other materials used on roofing systems.
Modified Bitumen: Usually an asphalt and polymer modifier combination that includes foil laminate or granules or additional protection. Considerations for this type of roofing:
Multiple layers that includes base sheets, modified bitumen, and surfacing.
A durable and flexible product.
Requires welding, creating a fire risk.
VOC-free versions.
Cool and reflective colors available

BUR: This built up roofing has either asphalt or tar alternating layers with a reinforcing fabric. A durable roof coating because the multiple layers and can hold up to foot traffic. Considerations for this type of roofing:
Multiple plies create a puncture-resistant roof coating.
Applies in a continuous layer.
Applied in a heated form and requires dry and warm weather.
Creates a strong odor of fumes during installation.
Not a cool roofing material, the asphalt absorbs heat.
Metal Panel System: this architectural metal panel roofing system is strong and available in several colors. Solar panels can be easily fitted into the roof system. Considerations for this type of roofing:
Long lifespan.
Available in several colors.
Allows thermal movement as metal contracts and expands.
Watertight and wind resistant.
Spray Polyurethane: This foam roofing system protect the roof from any damage, a durable material that is perfect for retrofitting an existing roof. Considerations for this type of roofing:
Combines spray foam insulation and a protective coating.
Puncture resistant.
Cracks and gaps are filled in during application to existing roof.
Cannot be installed during cold or wet weather.
What color roof is most energy efficient?
Like residential structures, cool roofing colors for a commercial structure are the lighter in colors. These reflect the UV rays instead of absorbing the heat into the structure.
Are cool roof shingles worth it?
When comparing cool roofing vs traditional roofing, for homeowners where the summers are hotter and longer, the tax credit they can claim, along with the annual savings definitely makes cool roofing shingles worth the extra cost. For homes where the winters are colder and longer, cool roofing shingles may not be worth the expense, even with the tax credits.
Commercial or Residential – A common Question: How do I cool my roof?, and there are several options available.
Install a roof garden
Paint the terrace a light color
Add shade with a canopy, trees, umbrellas
Have heat-resistant flooring installed
Have solar panels installed
Call (678) 365-3138 today for your cool roofing in [nw_data field=seo_city], [nw_data field=state].